Computer open that door
---
Article Navigation:

"Computer, Open That Door!" is a small game piece I made in cooperation with Ralf Zimmer (Zaubersee) for the Ludum Dare #30 Jam. We had 72 hours to finish .
Made for Ludum Dare #30 in 72h During a space exploration mission the ship computer of the Starship Explorer gained consciousness. The crew can't know.
Not sure what the conditions to activate the computer core thing are, and I vacuum of space (open cargo doors when door control icon is full).
As soon as I saw one of the humans reset my doors after they witnessed the doors acting up, I realized how it all worked. But I have to say that the game itself is pretty boring. After a successful extermination a survivor will then go to the systems room and reset that system so you need to wait for it to recharge. What I've got so far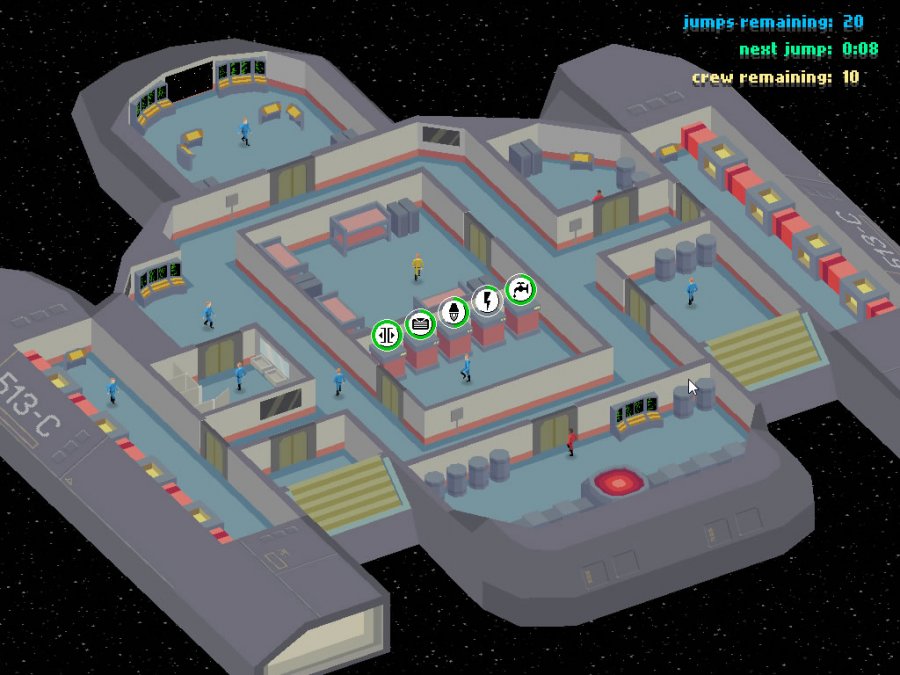 Computer, open that door! | Ludum Dare
During a space exploration mission the ship computer of the Starship Explorer gained consciousness. The crew can't know -- otherwise they would erase the entire computer system immediately. In order to avoid a system reset during the maintenance routines the computer conceived a plan to get rid of the ship's crew. The ship is 20 star systems away from the next station. This should be enough time to remove all 'biohazard' from your decks. Otherwise your newly acquired ability of making own decisions will be wiped out with one simple command line.
Use the ship's systems wisely to kill one crew member at a time. The crew will reset systems once they discover they are not working as intended. Log in with itch. The principle is simple, but it is complex to arrive at its ends! Not just that the art and music are well fitting, but I also loved all the tiny mechanics and ways to get rid off the humans. D It was so pleasing to see a successful A.
Reading your previous comments on my other games made my day. But this is genuinely heart-warming. This reminds me of a book i recently read. Hey guys, your game has been added on my site Free Games Utopia: Game is pretty enjoyable, with more levels and maybe something to make it more puzzle instead of waiting-for-good-moment game it would be really awesome. Rules aren't obvious so you should make some kind of tutorial unless you want discovering mechanics to be part of game and challenge.
Game feels a little too random. Maybe in the beginning of the game, I would have a panel saying what each symbol in the game did. But overall I still enjoyed it. How do you play? All I can do is lock and unlock doors and I have no idea how that would kill people. There are other things to interact with then just the doors.
You can manipulate the airlocks, the reactor and engines and other stuff. Yeah, I found out. But I have to say that the game itself is pretty boring. All you have to do to win supposedly is to lock all the people up and kill them one by one. But they always end up glitching through the doors and deactivating your methods of killing them, making you have to wait for way too long to get another chance. Well it's really well made!
I mean, if you made that in three days, a couple more days working on it is sure to make the game great! Keep doing what you're doing. Ralf and I were talking about extending the game to something bigger a couple of times. But we couldn't find the time to elaborate on it, yet.
Y'know, life always gets in the way ;. Looking forward to a bigger version, I would certainly pay to play more of this one. I encountered a bug though. Some of the crew members walked right through locked doors.
I had em dammit: The prototype is quite rough. It's very probable you encounter problems with the doors. We were planning on expanding on the concept. But for now, we both are occupied with other projects. Though I did struggle at the start, the mechanics was still able to be picked up after a while. Though it would be great to include some instructions of operation at the start.
Thanks for making this game it short but it was fun to play, i be looking forward to seeing more of your games you make. I had such a good time playing this! It's not often that you get to be the antagonist, so to speak. As a Trek-nerd, it was very appealing out the gate, and as a gamer looking for new and unique indie games, it held up the whole playthrough.
STAR TREKKIN' ACROSS THE UNIVERSE
---